The number of available homes for sale across the nation in December has fallen to its lowest level since 1999 and homeownership rates are almost near a 50 year low, according to the National Association of Realtors (NAR).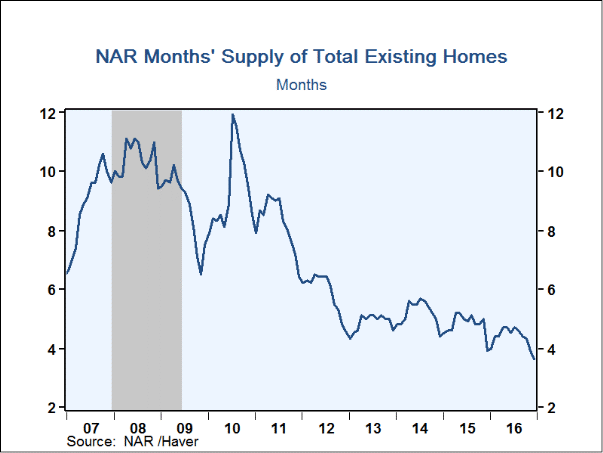 In December, nationwide inventory dropped 10.8% to 1.65 million homes for sale, which would take only about 3.5 months to go through at our current sale's pace, the lowest level since 2005. A six-month supply of homes for sale is said to be indicative of a healthy real estate market.
Home sales decreased 2.8% by the end of December to a seasonally adjusted annual rate of 5.49 million units. Inventory is 6.3% lower than a year ago and has fallen year-over-year for 19 straight months.
For sellers, less housing inventory more often than not means less time on the market and more money for their homes. An increase in pricing is a typical response to high demand and low inventory. However, when the sell, they also become a buyer who will have very little options for available homes to buy, and they become stuck between a selling rock and a buying hard place.
You see, home buyers are the opposite side of the spectrum in a thriving real estate market where less inventory equals fewer options, high pressured sales and possibly overpaying for a home they really did not want. This lack of inventory, high housing prices, and too many buyers who are actively shopping for a home may be the perfect recipe for another real estate bubble like we had experienced in 2008-2012.
Experts such as NAR's chief economist, Lawrence Yun had said, "Solid job creation throughout 2016 and exceptionally low mortgage rates translated into a good year for the housing market. However, higher mortgage rates and home prices combined with record low inventory levels stunted sales in much of the country in December.
Yun further stated, "While a lack of listings and fast rising home prices was a headwind all year, the surge in rates since early November ultimately caught some prospective buyers off guard and dimmed their appetite or ability to buy a home as 2016 came to an end.
The homeownership rate is at a near 50-year low, and it could remain at this level, I'm not sure if this is the trend that America wants," said Yun.
Nela Richardson, chief economist at Redfin said, "Buyers are out touring in droves, ready to pounce on new listings that fit the bill. The only thing missing is homes for sale to satisfy demand, because there just aren't a lot of homes available to buy right now."
Richardson concluded, "We are in a real estate black hole until those listings show up again."