The FDIC regulated big banks tend to be more conservative in their lending standards than private funds that are also known as shadow banks. This conservatism is creating a tremendous opportunity for these funds to get a big slice of the commercial lending market pie for loans that are too risky for the traditional banks. 
Bloomberg reports that private funds are seeking a record $32 billion for commercial-property debt as buyout firms, real estate investment trusts and hedge funds expand lending. These companies, which typically charge higher interest rates, can move quickly on large loans that may be seen as too speculative for banks.
With banking regulators warning of a potential real estate bubble, firms such as Blackstone Group LP and Starwood Property Trust Inc. stand to become an even larger force in the market. So-called shadow banks — lenders that fall outside of the industry's oversight — are able to take on more risk amid calls for caution in an area that melted down during the 2008 financial crisis.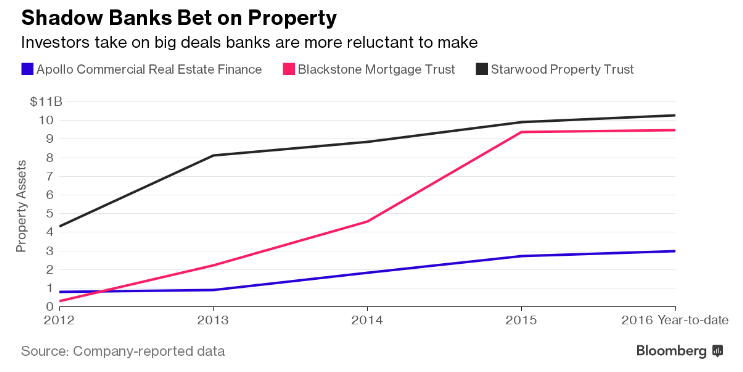 "These guys aren't scared of an empty building," said Steven Delaney, an analyst with JMP Securities LLC. "These are the loans banks don't want. There is a tremendous opportunity and a need for commercial-property owners for more types of financing than the commercial banking industry as a whole is willing to provide."