AFTER ENDURING 10 YEARS OF EXCESSIVE MORTGAGE DEBT SERVICE, MANY PEOPLE DOWNSIZE WHEN PRICES RISE HIGH ENOUGH FOR THEM TO SELL.
(Source: OC Housing News) – Most people visualize the housing ladder as a steady upward progression from starter home to Mansion by the beach, but that's seldom the reality. Many people buy entry-level housing, and when prices rise high enough for them to sell and have 20% down for a larger property, the participate in the move-up market. If their income grew while they lived in their entry-level home, the step up can be quite luxurious. If their income didn't go up much, they are probably better off refinancing into a lower-cost mortgage and staying put.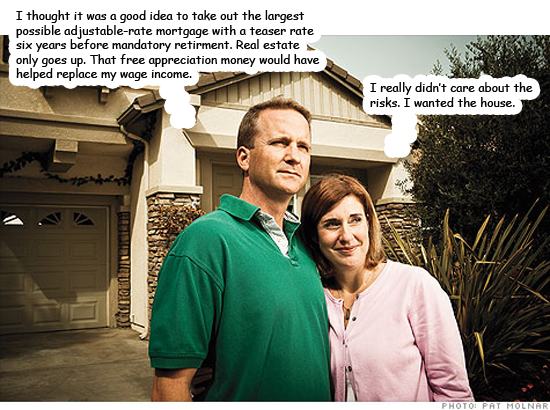 The housing bubble severely disrupted the housing market. It prompted many people to buy into a market frenzy and many others to refinance their homes at peak price levels. As a result, many people were trapped beneath their debts when house prices crashed. (See: Millions of homeowners trapped in entry-level homes for over a decade)
Many of those who bought or refinanced at the peak used unstable loan products, and they couldn't afford to service the amount they borrowed. In an act of self-preservation, lenders often modified these loans to make the debt service manageable, but it didn't make the debt — or the house — truly affordable. In 2013 I posited that the Loan modification entitlement will be rescinded as prices near the peak, and later that The final resolution of loan modifications will push people out of their homes.
The people affected by the rising costs of their loan modifications will not likely end up as foreclosures. The banks wait to put the screws to people until after they have equity and the homeowner can sell for enough to repay the bank; after all, the bank doesn't want to lose money. This slow exodus won't impact prices in the housing market much, but it does impact the lives of many families as they are subtly pushed out of their homes. After years of struggle, many of these people will take a step down the property ladder into a house they can truly afford.