Pending home sales were up slightly in June due to a lack of inventory and affordability constraints, according to the latest report from the National Association of Realtors®.
The NAR said sales increased by only 0.2% to 111.0 in June from 110.8 in May, and is now 1.0% higher than June 2015 (109.9). The regions of the country that saw home sales increase were the Northeast and Midwest, but were offset by drops in sales in both the South and West.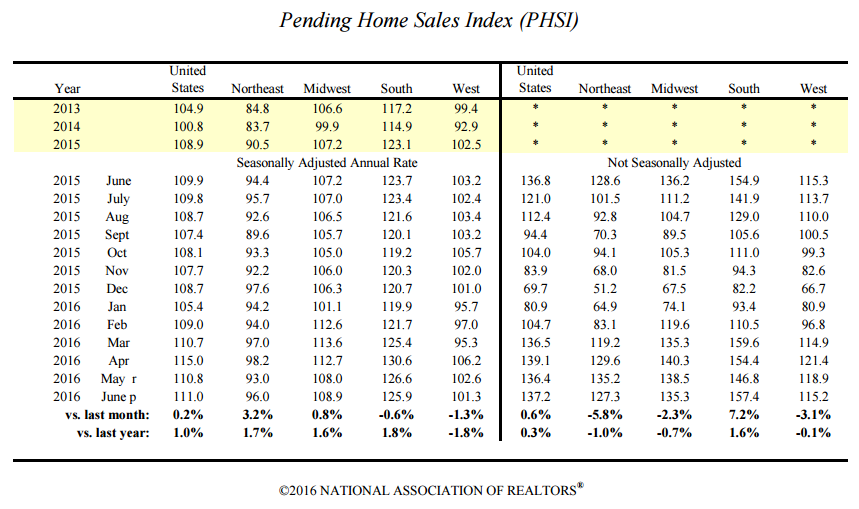 The Northeast saw an increase in pending homes sales in June of 3.2% to 96.0, and is now higher by 1.7% from this same time last year. An increase of 0.8% to 108.9 was seen in the Northeast in June, and is currently 1.6% higher than June 2015.
Sales in the South were down by 0.6% in June to an index of 125.9, but are still up by 1.8% from this same time last year. The index in the West decreased 1.3% to 101.3, and is 1.8% lower than June 2015.
Lawrence Yun, NAR chief economist, had said:
"With only the Northeast region having an adequate supply of homes for sale, the reoccurring dilemma of strained supply causing a run-up in home prices continues to play out in several markets, leading to the last two months reflecting a slight, early summer cool down after a very active spring. Unfortunately for prospective buyers trying to take advantage of exceptionally low mortgage rates, housing inventory at the end of last month was down almost 6 percent from a year ago, and home prices are showing little evidence of slowing to a healthier pace that more closely mirrors wage and income growth."
Yun adds, "Until inventory conditions markedly improve, far too many prospective buyers are likely to run into situations of either being priced out of the market or outbid on the very few properties available for sale."
"Limited selection of homes at bargain prices is reducing the number of individual investors willing or able to buy. This will hopefully open the door for first-time buyers, who made some progress last month but are still buying homes at a subpar level even as rents increase at rates not seen since before the downturn. "