The section 184 Indian Home Loan Guarantee program is designed for members of a federally recognized tribe, a regional or village corporations as defined in the Alaska Native Claims Settlement Act, or one of the following five state tribes: Coharie Tribe (North Caroline); Haliwa-Saponi Tribe (North Carolina); Lumbee Tribe (North Carolina); Waccamaw Siouan Tribe (North Carolina); MOWA band of Choctaw (Alabama). This loan program was enacted in in 1992 to facilitate homeownership and increase access to capital in Native American Communities.
The property that will be secured by the mortgage must also be in an approved Indian operating area. As of 2014, there are Indian operating areas in 39 states. Below is the map of approved Indian operating areas found on the HUD website: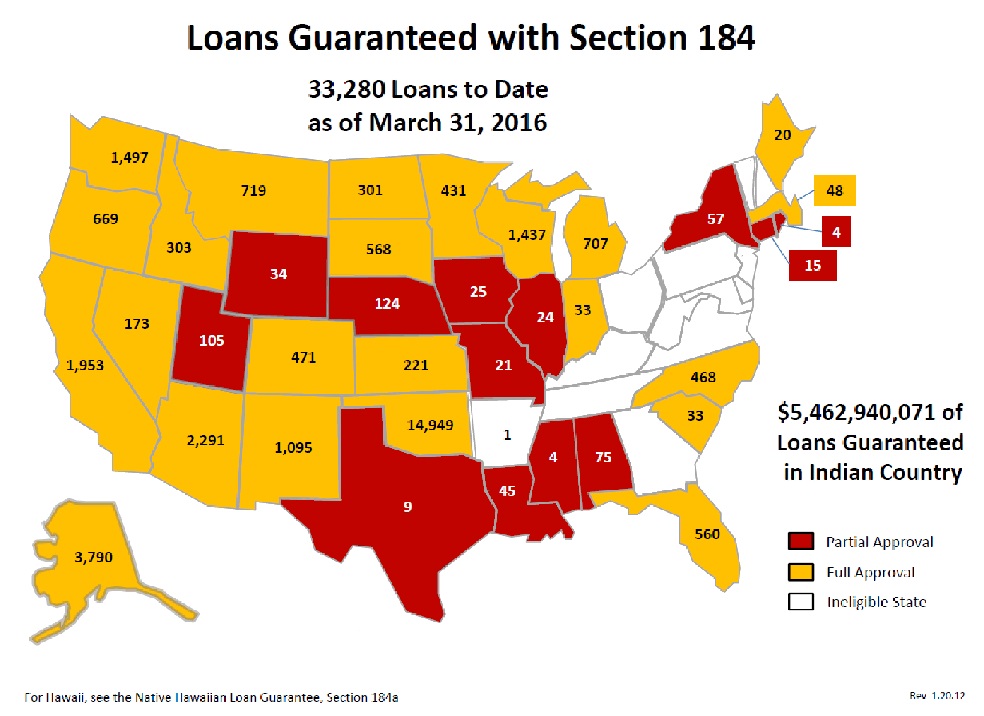 Eligible tribal members are not limited to purchasing a home in a place where their tribe is authorized to provide housing. For example, if an Oklahoma tribal member wants to purchase a home in Alaska that is allowed.
The property must be located in an Unrestricted (Fee) Land within Indian Areas under this program. Unrestricted fee land means that the owner of the land can transfer or sell the property without seeking the approval of the United States or Tribal government. If the unrestricted fee land is in an Indian area, the land is eligible for Section 184 loans.
We can only finance single-family housing (1-4 units). All mortgages are 30-year fixed and no adjustable loans. The maximum loan limits vary by state and county. Please call us if you are not sure the loan amount for your county.
Are you an eligible borrower?
As mentioned above the applicant must be a member of a federally recognized tribe which can be determined here at this link. You must also supply proof of membership or enrollment which is typically determined through possession of a tribally issued enrollment card or through a letter from the tribal enrollment office stating that the applicant is a member of the tribe.
A tribal member must occupy the property as their principal residence to prevent the loan from being used as an investment property.
The down payment requirement is 2.25% of purchase price or appraised value, whichever is less.
The credit and income requirements for this program are very similar to FHA or Government Insured loans however it requires a seasoned professional to understand the process. We will work with you in getting all the documents needed for loan approval and also with your tribe and Bureau of Indian Affairs if leasing tribal land.
We are a HUD-approved Section 184 lender. To find out more about what you need to qualify for this loan, please feel free to call us at 1-800-779-4547 or e-mail Erik@LoansReduced.com. You can also apply online at www.LoansReduced.com.