Approximately 31,000 loan modifications were made in April 2016, which was down from 32,000 in March, according to a new report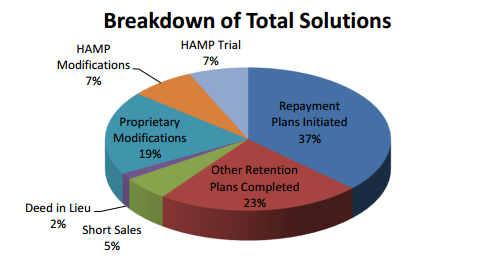 released by the mortgage alliance of lenders, mortgage servicers, investors and counseling agencies, HOPE NOW.
The total number of homeowners who received mortgage solutions in April to avoid foreclosure was at 37,169.
Short sales accounted for 6,300 of the mortgage solutions for homeowners in April, a decrease of 15% from the previous month, and deed in lieu of foreclosure numbers saw a decrease of 18% to 1,700.
There were about 28,000 foreclosure sales reported for April, which was a decrease of 6% from 29,000 in March. Foreclosure starts went down in April 16% to 50,000, compared to 59,000 in March.
Eric Selk, Executive Director, issued this statement:
"Activities to help families avoid foreclosure has remained strong during the first quarter of 2016. As mentioned in the data above 3.5 solutions are offered for every foreclosure. This points to a strong set of tools to address and cure delinquency. Permanent modifications increased slightly from the previous quarter while short term solutions such as repayment plans and retention plans increased significantly.
Early intervention and direct contact with the borrower has clearly made a huge impact in the overall delinquency numbers. Our data indicates that both permanent and short term solutions remain available to those
who are struggling with their mortgage."