(WASHINGTON, DC) – HOPE NOW, the voluntary, private sector alliance of mortgage servicers, investors, mortgage insurers and non-profit counselors, has released its February 2016 loan modification data.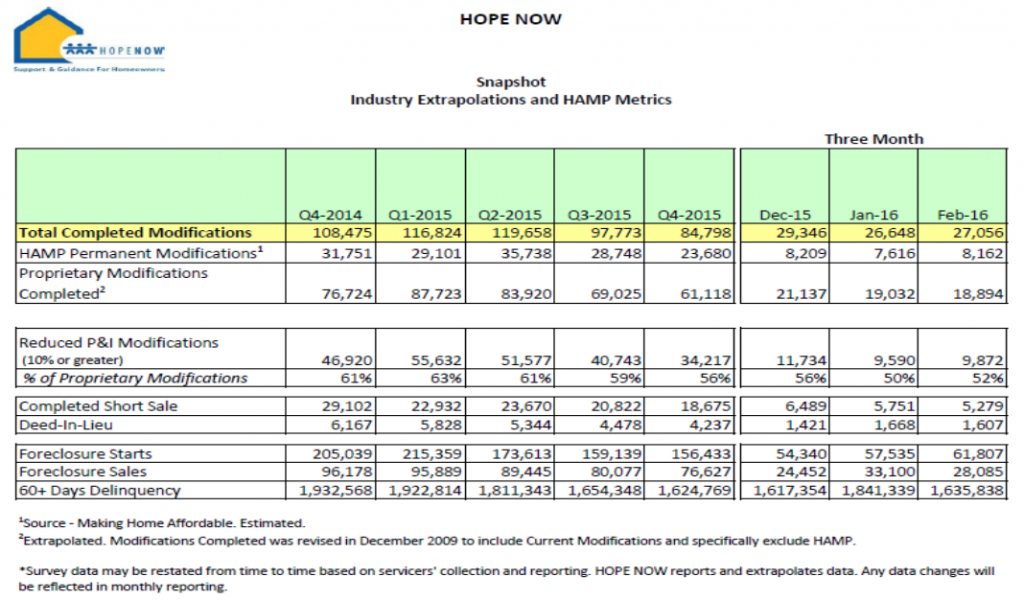 For the month of February, total non-foreclosure solutions (the combination of total loan modifications, short sales, deeds in lieu and workout plans) were approximately 97,000. This compares to approximately 28,000 foreclosure sales for the month.
Included in that total solutions figure were an estimated 27,000 permanent loan modifications. This total includes modifications completed under both proprietary programs and the government's Home Affordable Modification Program (HAMP).
Since HOPE NOW began reporting data in 2007, the total number of nonforeclosure solutions is 24.8 million and the number of permanent loan modifications is 7.8 million.
Of the permanent loan modifications completed in the month of February, an estimated 19,000 were through proprietary programs and 8,162 were completed via HAMP.