CoreLogic said yesterday that the housing market currently has the highest supply of high end homes listed at $1 million or more since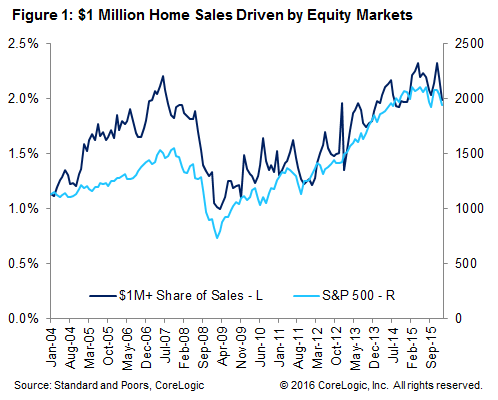 January 2012. In December 2015, there was a 13 month supply of homes for sale, that was much higher than last year at the same time which saw a 9.3 months supply of homes.
The trend aligns with the financial markets between stock performance and sales of high end houses. As the stock market went down in recent months, so has the volume of $1 million home sales.
According to CoreLogic, "the powerful 'wealth effects' generated by the rapid rise in equities between 2009 and 2015, drove a large rise in the sales of homes that sold for $1 million or more.
Historically, sales of homes priced $1 million or more averaged 1.2 percent of all home sales. The spread between high-end sales and equities widened during the housing bubble, but then moved more closely in unison. By the time the equity markets had peaked in May 2015, the $1 million or more share of the market had nearly doubled, averaging 2.2 percent for the remainder of the year.
Since its peak in May 2015, the S&P Index declined 10 percent as of mid-February (with some rallying the past 10 days). This decline in the S&P Index was matched by a 30 basis point or 15 percent decline in the $1 million or more share, which fell from 2.3 percent in November of last year to 2.0 percent in January 2016."