The mortgage refinance market continues its downward trend in the first quarter of 2017 due to rising interest rates and the Home Affordable Refinance Program, also known as HARP® is still helping homeowners refinance with little to no equity, according to a report released by the Federal Housing Finance Agency (FHFA).
The FHFA said that just over 510,000 refinances were completed in the first quarter of 2017, compared to more than 750,767 in the fourth quarter of 2016. total refinance volume fell in March 2017 as mortgage rates in February and March remained over half a percent higher than the lows observed in 2016.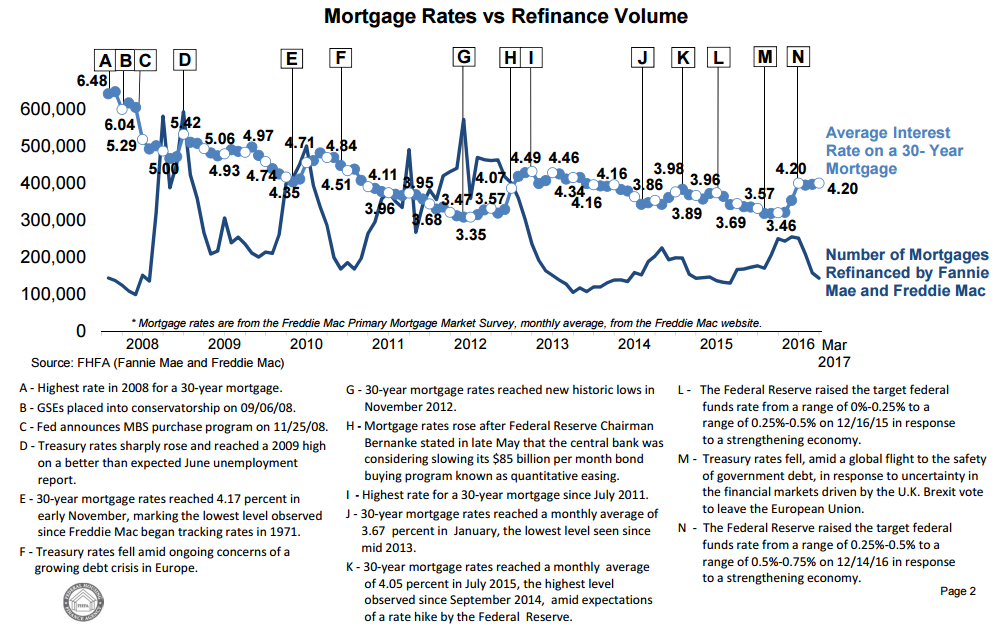 The report also shows that 3% or 13,425 of the mortgages refinanced from January through March were through the Home Affordable Refinance Program (HARP). A HARP refinance is similar to a conventional refinance but is designed for homeowners with a current loan‐to‐value ratio ‐‐ LTV ‐that is greater than 80% or have no equity and negative equity.
A total of 3,461,096 loans have been refinanced via HARP since the program began in 2009 and it has been extended until September 2017. Borrowers who refinanced through HARP had a lower delinquency rate compared to borrowers eligible for HARP who did not refinance through the program.
In the first quarter of 2017, 13,425 refinances were completed through HARP, bringing total refinances through HARP from the inception1 of the program to 3,461,096. Approximately 137,594 underwater homeowners (no equity or negative equity) could still benefit from a HARP refinance as of the fourth quarter of 2016.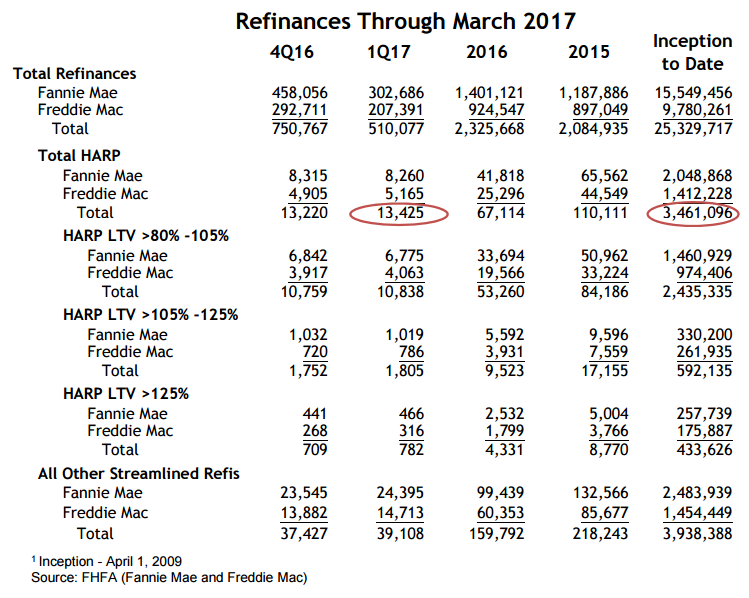 According to the FHFA report, borrowers with loan‐to‐value ratios greater than 105 percent accounted for 19% of the volume of HARP loans in the first quarter of 2017. The proportion of HARP refinances for underwater borrowers (LTV greater than 105 percent) refinancing to shorter term mortgages accounted for 24 percent. Shorter term 15‐and 20‐year mortgages build equity faster than traditional 30‐year mortgages.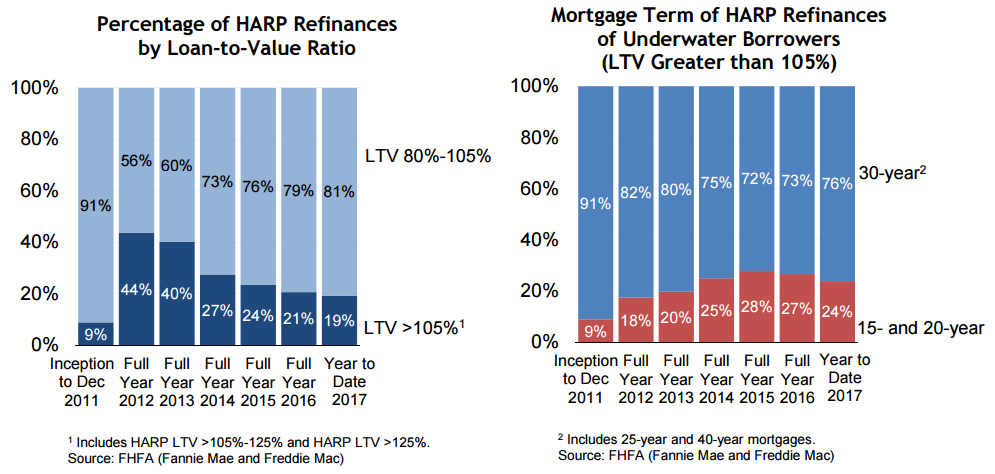 You can read the full FHFA PDF report below.
Refi_1Q2017