A new poll by Gallup shows that approximately 50% of people who currently do not own a home plan to purchase properties in the next 5 years. Gallup surveyed 502 non-homeowners which proved that most of the people plan to buy homes in the near future, including 10% over the next 12 months, 39% in the next five years and 20% within 10 years.
Home values continue to rise due to a lack of housing supply, extreme demand. and properties receiving multiple offers. Currently, 61% of Americans expect housing prices to rise over the next year in their area which is the highest percentage making that prediction since 2005, according to Gallup.
This type of environment causes markets to become overheated and cam create a pricing bubble that can pop as it did in most parts of the country during the mortgage and housing crisis of 2008-2011.
Gallup said that most non-homeowners aged 55 and older do not plan to buy homes in the near future, but most younger adults do. Fifty-eight percent of those aged 35 to 54 expect to buy within the next five years, as do 52% of those aged 18 to 34. An additional 31% of 18- to 34-year-olds plan to buy within the next 10 years, leaving only 14% in this age group not thinking of buying a home in the next decade.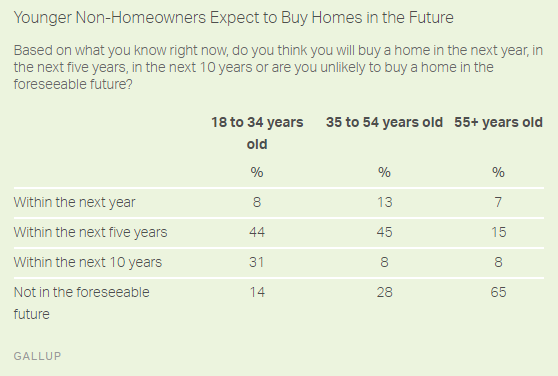 The main problem facing these future homebuyers as mention above is a lack of home for sale. Then couple in the fact that most 64% of homeowners do not think they will sell their homes for the foreseeable future. Gallus said that 20% plan to sell within the next five years, 4% in the next year, and 13% plan to sell within the next 10 years.
Read more from Gallup at this link.