Existing-home sales had risen 1.8% in May to their highest pace in approximately 10 years, while the rising demand for homes in a tight housing inventory market caused the median sales price to an all-time high, according to the National Association of Realtors (NAR).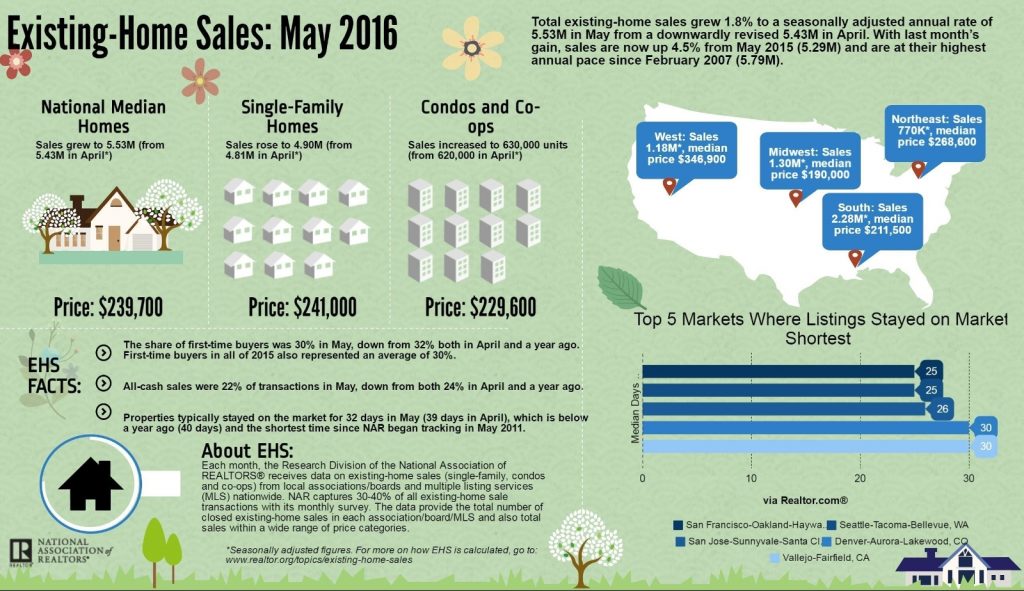 Sales for all housing types has risen 4.5% from May 2015 (5.29 million) and are at their highest annual pace since February 2007 (5.79 million).
The median existing-home price in May was $239,700, up 4.7% from May 2015 ($228,900) which was the 51st consecutive month of year-over-year gains.
Total housing inventory had risen 1.4% to 2.15 million existing homes available for sale, but is still 5.7% lower than a year ago (2.28 million). Unsold inventory is at a 4.7-month supply at the current sales pace, which is unchanged from April.
Lawrence Yun, NAR chief economist, says existing sales continue to hum along, rising in May for the third consecutive month. "This spring's sustained period of ultra-low mortgage rates has certainly been a worthy incentive to buy a home, but the primary driver in the increase in sales is more homeowners realizing the equity they've accumulated in recent years and finally deciding to trade-up or downsize," he said. "With first-time buyers still struggling to enter the market, repeat buyers using the proceeds from the sale of their previous home as their down payment are making up the bulk of home purchases right now."
Adds Yun, "Barring further deceleration in job growth that could ultimately temper demand from these repeat buyers, sales have the potential to mostly maintain their current pace through the summer."