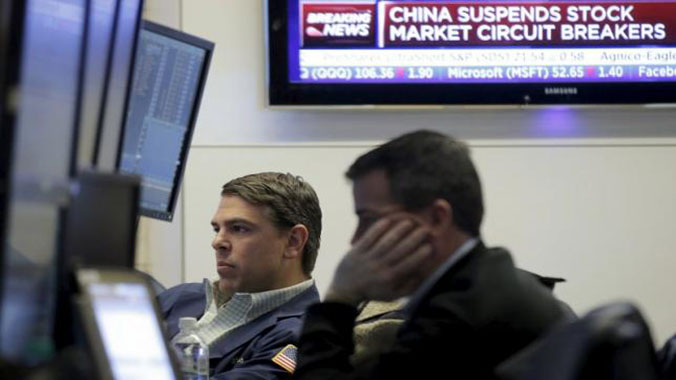 (By Jeff Berwick – The Dollar Vigilante) – We warned 2016 was going to be a bloodbath in the markets but even we didn't think it would happen this quickly.
Chinese markets are now 13 percent down for the year, and the entire Chinese exchange system is looking increasingly dysfunctional.
On Monday, the Shanghai index fell 7% and then shut down. Three days later, the Shanghai exchange opened for about 15 minutes, plunged 7% and was shuttered yet again.
Even with these losses, though, Chinese stocks are still fantastically overvalued on a Price/Earnings ratio basis compared to equities in other major stock markets. China's bloodletting could still drip crimson for weeks or months – along with the rest of the world.
Exchanges around the world are quaking at the start the year.  The Dow Jones is off to its worst start  in history.  It fell nearly 400 points on Thursday and is now down over 1,000 points in the last week.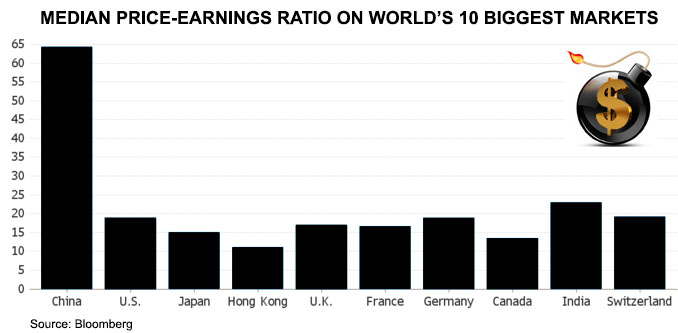 Many think that the Chinese collapse is causing US markets to shake.  It may have some influence but the truth is that the US markets have a lot of their own problems.
Former Dallas Fed official Richard Fisher appeared on CNBC this week and "unleashed some seriously uncomfortable truthiness during a 5-minute confessional interview on CNBC", reported Zerohedge.
According to Zerohedge:
Fisher explains "It is not China," it is The Fed that is at fault… What The Fed did, and I was part of it, was front-loaded an enormous market rally in order to create a wealth effect… and an uncomfortable digestive period is likely now."
This is the perspective of our own in-house financial analyst Ed Bugos. He believes the Chinese sell-off is just a symptom of the horrible monetary mismanagement of the Federal Reserve.
Sure China is in a bubble, but the real bubble is the one that the Fed created. He explains this and much, much more in our just-issued January TDV newsletter.
Today, George Soros, funder of coups and riots, said that he believes we are on the verge of a 2008-like crisis.
We are on the verge of a crisis, alright… but it will be far worse than 2008.
We suggest you hold on to your hats this year.
This is a continuation of the collapse that began in the summer of 2015… that we predicted.
Since summer we've had a 4,500% gain shorting the market and after our recommendation of bitcoin, it doubled.
We just released a 60-page report to TDV subscribers with recommendations that could easily surpass our summer calls based on what we are seeing.
Gold, silver, precious metals stocks and bitcoin are some of our major holdings and they have all surged higher in the first week of the year while stock markets have gotten off to their worst start in history… and we are profiting from shorting them too.
We were the hottest financial newsletter in 2015 and we think 2016 will make last year look like child's play.  Subscribe here before rates rise on February 1st, to lock in the current rates and make sure you are getting some of the most prescient and profitable information, analysis and advice for the year to come.
Or you can just keep watching CNBC.  Jim Cramer just told people not to panic.  The last time he did that waswhen he told people they were being silly to sell Bear Stearns at $62 during the last crisis.
SOURCE: Jeff Berwick is the founder of The Dollar Vigilante