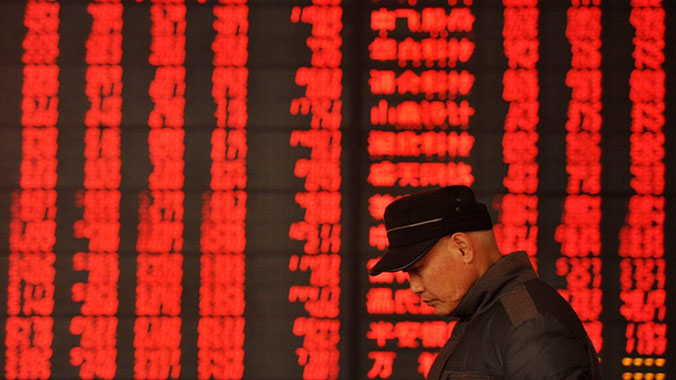 (By Jeff Berwick – The Dollar Vigilante) – In July of 2015 we made a bold call that the markets would enter into a crisis period by the fall.  World stock markets subsequently crashed and the Dow had its largest intraday point drop of over 1,100 points in August.
The third quarter of 2015 ended up being the worst for stock markets since the last Shemitah year in 2008.  However, some markets staged a rebound in October and November and we continued to state that they would not recover to the summer highs and that a much bigger drop was in store for later in 2015 or early 2016.  I even stated that 2016 would be a "bloodbath".
Well if the first four trading days of 2016 are any indication, it will be!  In China, it already is.
On Monday the Shanghai index plunged 7% and was shuttered for the day by midday.  Then, on Thursday, the Shanghai market managed to stay open for only 5 minutes before dropping another 7% and being closed yet again!
Just four trading days into 2016 and Chinese stocks are already 13% in the red for the year and they can't seem to keep the Shanghai exchange open for more than a few minutes before having to close for fear of all-out devastation.
As we speak Dow futures for Thursday are off 250 points, which would peg the Dow at 16,650.  It was only five trading days ago that the Dow was at 17,680, which would mean the Dow has dropped 1,000 points in the last week.
In the summer we had two main recommendations for subscribers of The Dollar Vigilante newsletter: Short the US stock market via far out-of-the-money puts and buy bitcoin.
Subsequently, our S&P put option trade rose 4,500% in a three-day period in August.  And bitcoin has doubled since.  In fact, in the last few hours, bitcoin spiked higher on 20x its regular volume… likely due to the events in China.
Now, we have a number of new trade recommendations that we think can outdo our summer, 2015, success.  And we'll be releasing it to subscribers on Thursday.
Of course, in order to find out about these trades, you have to be a subscriber. And due to demand, we'll be raising our rates for the newsletter at midnight on January 31st.  Go to dollarvigilante.com/subscribe to take advantage of current rates and receive our latest recommendations.
As we already predicted, this should be a wild year. And we have other resources available for our forward-thinking audience as well. Our upcoming, one-day TDV Internationalization & Investment Summit to be held in Acapulco, Mexico, will offer the kinds of terrific insights and analysis you've come to expect from us.
It'll be held the day before the world's largest anarcho-capitalist conference, Anarchapulco.  There is nothing like Anarchapulco, which gathers together the best thought-leaders in the free-market community to explain the historic shift that is taking place in the political and investment economy.
A big topic, one of many, will be bitcoin and the cryptocurrency revolution.
No other financial newsletter on the planet has been recommending bitcoin since $3… currently at $450.  In fact, almost all other financial newsletters don't even understand bitcoin.  They are missing the boat.  This is an evolution in money and banking.
I constantly get called crazy for my future-looking calls.  They said I was crazy when I said the internet would change everything in 1994 and quit my job at a bank to start an internet company that went on to be worth $240 million.  They called me crazy when I recommended bitcoin at $3 in 2011.  And many called me crazy when, based on the timetable of an ancient mystery called the Shemitah, I made a short term call for market chaos… that came true a month later and made some of our subscribers fortunes.
I was called crazy, too, and a provider of "fear porn", for saying 2016 would be a bloodbath in the markets.  We are just a few days in and already many have quieted down!
I've got a few more "crazy" predictions I'll be telling subscribers about later today…
In a world gone insane with Keynesianism and communist style central banking with negative interest rates, I'm happy to be called crazy.  And we'll keep racking up the profits off our crazy predictions.
SOURCE: Jeff Berwick is the founder of The Dollar Vigilante