The global financial markets are in turmoil, and the U.S. Dow is down big time. This downward trend began last Friday following Britain's vote to leave the European Union, which is commonly known as Brexit.
This news has caused every major European stock market to plunge 2-3% and the Dow is currently down 300 points, losing a combined $2 trillion in just two days. This was the worst sell-off in worldwide stock markets in history.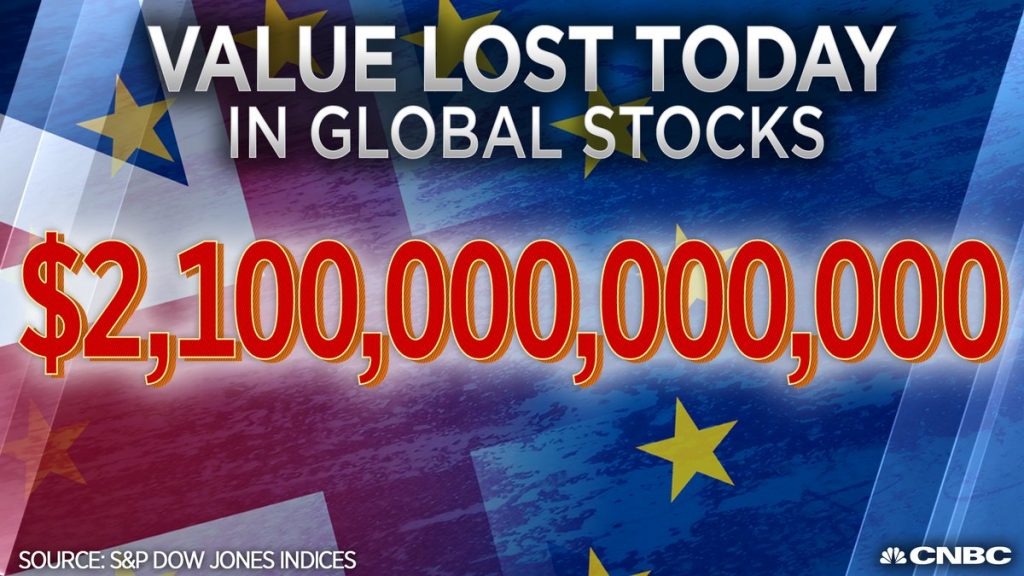 Alan Greenspan had told CNBC this week, "This is the worst period I recall, since I've been in public service." "There's nothing like it, including the crisis — remember October 19th, 1987, when the Dow went down by a record amount 23 percent? That I thought was the bottom of all potential problems. This has a corrosive effect that will not go away."
What does all this mean for mortgage rates?
There appears to be some silver lining in the global market chaos. U.S. Mortgage rates have been pushed to their lowest point in three years, with 30 year mortgage rates now averaging at 3.46%.
The reason for lower rates is due to investors selling stocks and buying bonds and mortgage backed securities which causes lenders to price their loans more aggressively and rates to fall.
Many experts predict that this global uncertainty in the financial markets will play out over many months, and possibly years. The short term effect will be lower mortgage rates, but in the long term, we could possibly see rates go well over 4%.
The Mortgage Bankers Association chief economist, Michael Fratantoni, predicts rates will go up to 4% by the end of the year and as high as 4.8% by December 2017. Fratantoni had said this week,
"At this point, it is unclear whether this will just be a short term disruption, or whether it will have a longer-term impact. Our best guess at this point is that the impact on the mortgage market will be to keep mortgage rates lower for longer, likely leading to another pickup in refinance activity."
Joe Melendez, founder and CEO of downpayment-protection outfit ValueInsured had told US News that the current hot housing and mortgage market is not sustainable and looks like "a canary in a coal mine." Melendez had said,
"We're starting to see some of the effects of not raising interest rates in the growth in home values and the rapid expansion in home prices, which is going back to the pre-bubble days – I hate to use the word 'bubble' – but it's the pre-bubble days of 2006 and 2007." "And at a certain point, you don't have the wage growth and the wage sustainability to support those prices. So at a certain point you'll be at a disequilibrium."
"Initially, this is going to push the rates down like we're anticipating and like we're seeing. And as mortgages continue to become cheaper, you're just putting more fuel in the fire to push prices higher," he says. "And at the same time we're seeing the treasuries be the safe havens, we're also potentially looking at creating headwinds, because those dollars coming in to buy [relatively safe assets] are also going to strengthen the dollar, which will create macroeconomic headwinds for us on the export market."
Redfin chief economist, Nela Richardson had said, "Buying just got riskier. Selling just got riskier. Lending just got riskier, all because the market is more turbulent and less predictable. It takes a certain amount of confidence to buy a huge asset like a house and markets just lost their confidence."
In my mortgage experience over the years, rates often go up and down with the financial markets. We have mostly seen historic low rates for the last five years which has caused the housing markets to flourish to the point that we may be seeing another bubble burst in the near future.
One thing is for sure, this hot housing market and these low rates will certainly not last forever. With that said, now may be one of the best times in recent history for home buyers and homeowners to lock in that mortgage rate before the bubble bursts.
If you would like to discuss the current mortgage market, or get a live rate quote on a home loan, please feel free to call me, Erik Sandstrom, with Caliber Home Loans at 1-800-779-4547; or email me your question to Erik.Sandstrom@CaliberHomeLoans.com.