LoanSafe Mortgage Modification Guide
Learn how to beat your lender and save your home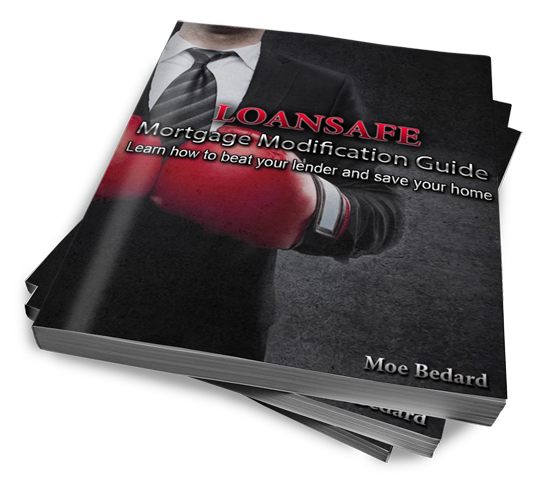 What the E-Book Contains
* Save hundreds of hours of research with our simple step-by-step guide to walk you through the process of processing, applying and obtaining a modification
* A complete loan modification guide for homeowners, housing counselors and attorneys
* Get 5 example hardship letters and many other essential documents such as a sample loan modification proposal letter
* Interactive tools such as an income worksheet, and debt to income calculator
* Tips for dealing with your mortgage servicers loss mitigation department
* A checklist of items you will need and ideas on how to package your application
* What to do if a foreclosure has been initiated
* How to settle or wipe out your 2nd mortgage
* And much more!
Buy it Now for Only $49.99
[s2Member-PayPal-Button sp="1″ ids="129077″ exp="72″ desc="Buy step-by-step guide to walk you through the process of processing, applying and obtaining a loan modification." ps="paypal" lc="" cc="USD" dg="0″ ns="1″ custom="www.loansafe.org" ra="49.99″ image="default" output="button" /]
Hello Moe,
Your loan modification e-book not only helped save my home, it also helped save my life. The awesome work you put into it along with the good work you do on LoanSafe.org has been documented for everyone to witness. I would recommend this e-book to any homeowner who is serious about obtaining a loan modification. Almost everything they will ever need to know about the process will be right at their fingertips in this handy guide.
Thanks for saving our home. God bless you.
Joy Rogers – Northern California Homeowner
I'm an attorney in Florida and California. I have been well aware of Moe's work on LoanSafe for the last several years. The work he has done in this industry since the mortgage crisis began is incredible. There is not many people who have the seasoned experience like he has working with people day in and day out for so many years. This loan modification e-book is simply the best books that has ever been written on this subject. Whether you are an attorney helping a client, or a struggling homeowner in search of real life solutions to your mortgage problems, this e-book gives you the tools you need to complete a successful modification.
Marshall Rosenbach Esq.
I want to wholeheartedly recommend this book. The internet can be a scary place, with people posing as someone who want to help you but what they really want to do is make a fast buck. LoanSafe is NOT one of those places, and this is not one of those books.
With this book you can save your home. You can take power over your life again. I'm speaking from personal experience and I'm not getting anything for saying this!!
Joan B. – Florida Homeowner
What's in the LoanSafe Mortgage Modification Guide?
Here are all the chapters and contents contained in this awesome e-book.