(Source: ABA) WASHINGTON — The nation's banks stopped more than $8 out of every $10 of attempted deposit account fraud in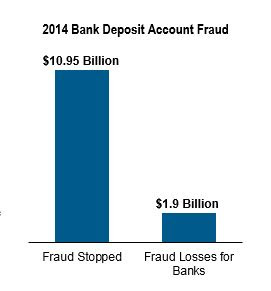 2014, according to the 2015 American Bankers Association Deposit Account Fraud Survey Report. While attempted fraud against bank deposit accounts reached $13 billion, banks' prevention measures stopped $11 billion in fraudulent transactions. Fraud against bank deposit accounts cost the industry $1.9 billion in losses an increase from $1.7 billion in 2012. 
"Banks' sophisticated fraud prevention systems and customer vigilance successfully stopped 85 percent of fraud attempts in 2014," said Doug Johnson, senior vice president, payments and cybersecurity policy at ABA. "We saw an increase in fraud losses in 2014 most likely due to the number of large-scale retailer data breaches, which resulted in a significant increase in attempted debit card fraud."
Debit card fraud accounted for 66 percent of industry loss, followed by check fraud at 32 percent, and online banking and electronic transactions such as wire and ACH at 2 percent, according to the report. The leading types of debit fraud were counterfeit cards, card-not-present transactions, and lost or stolen cards. The most common check fraud categories were counterfeit checks and return deposited items.
Online banking saw a significant drop in losses in 2014 while attempted online fraud increased. The survey found that the proportion of active online banking customers affected by fraud remained low – fewer than one in 1,000.
"Banks recognize that many customers are moving online to perform banking transactions and have invested billions of dollars to create very effective online fraud prevention systems that include features like multi-factor authentication and monitoring IP addresses," said Johnson.
ABA has been tracking deposit account fraud since 1993.
"Trends over the past 20 years show that no payment instrument is risk free," said Jane Yao, senior vice president of benchmarking and surveys at ABA. "Our customers enjoy new products that make banking faster and more convenient, but fraudsters have their eyes on them, too. It's important that banks and technology companies balance convenience with risks and vulnerabilities when creating new products and services."
The ABA survey was conducted between May and August 2015. The survey report is based on responses from 101 banks of all sizes.
The price of the 196-page report is $400 for ABA members, $800 for non-members. For more information or to order, call 1-800-BANKERS or visit aba.com.
To partner with your bank in the fight to stop fraud, ABA recommends consumers follow these steps:
Don't share your secrets.
Don't provide your Social Security number or account information to anyone who contacts you online or over the phone. Protect your PINs and passwords and do not share them with anyone. Use a combination of letters and numbers for your passwords and change them periodically. Do not reveal sensitive or personal information on social networking sites.
Shred sensitive papers. 
Shred receipts, banks statements and unused credit card offers before throwing them away.
Monitor your accounts regularly.
Rather than waiting for your monthly statement, use online banking to monitor transactions on your account regularly. If you see a fraudulent transaction, notify your bank immediately.
Sign up for text alerts.
Sign up for text or email alerts from your bank for certain types of transactions, such as online purchases or transactions of more than $500.
Protect your mobile device. 
Use the passcode lock on your smartphone and other devices. This will make it more difficult for thieves to access your information if your device is lost or stolen. Before you donate, sell or trade your mobile device, be sure to wipe it using specialized software or using the manufacturer's recommended technique. Some software allows you to wipe your device remotely if it is lost or stolen. Use caution when downloading apps, as they may contain malware and avoid opening links and attachments – especially for senders you don't know.
Keep an eye out for missing mail.
Fraudsters look for monthly bank or credit card statements or other mail containing your financial information. Consider enrolling in online banking to reduce the likelihood of paper statements being stolen. Also, don't mail bills from your own mailbox with the flag up.
Monitor your credit report.
Order a free copy of your credit report every four months from one of the three credit reporting agencies atannualcreditreport.com.
Protect your computer.
Make sure the virus protection software on your computer is active and up to date. When conducting business online, make sure your browser's padlock or key icon is active. Also look for an "s" after the "http" to be sure the website is secure.
Report any suspected fraud to your bank immediately.
SOURCE: The American Bankers Association – Learn more at aba.com.