A report by Fitch ratings called "Historical Modification Data Review" shows that loans modified since 2014 have faster re-default rates and approximately 75% fail within two years.
Researchers only analyzed Fannie Mae's single-family mortgage modifications for 700,000 loans totaling $135 billion. Of these loans, 448,000 were still active with an outstanding balance of $75 billion.
Fitch said that one of the main factors driving re-default rates was the loan modification terms borrowers are offered and there is direct correlation between the amount of the payment reduction and re-default rates. Borrowers who received multiple modifications have higher re-default rates.
The chart below shows the number of loans that have been modified each year since the housing crisis.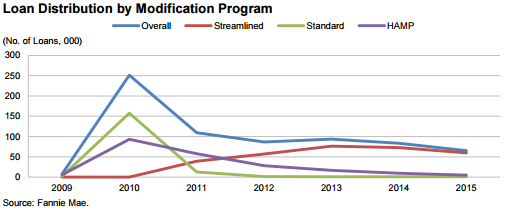 The chart below shows loans modified in 2009 and 2010 have the highest cumulative default rate, while loans modified in 2012 and in 2013 show lower re-defaults. Loans modified in 2015 show very fast re-defaults, comparable to the re-default rates of loans modified in 2010. Of the loans modified in 2015, 30% experienced more than one modification and the average FICO score is only 592. Loans modified in 2015 are likely to have a higher cumulative default rate than those modified in prior years, according to Fitch.
Read the rest of the PDF: Risk Growing in Mortgage Loan Modifications – Historical Modification Data Review from Fitch ratings below.
Risk-Growing-in-Mortgage-Loan-Modifications