(Source: People's World) – Mercedes and Pablo Caamal of Rialto, CA worked their entire adult lives to own their home, saving what they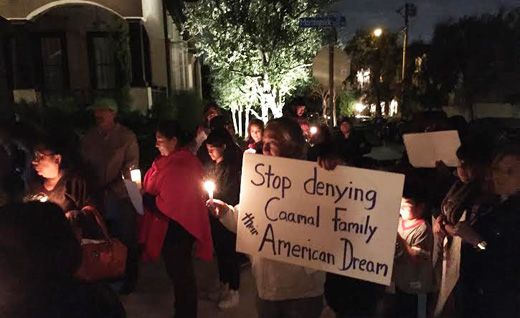 could and raising their five children. But now they are fighting the bank and another financial firm, who they say have improperly taken their home away. "It is hard to see all that my parents worked for slip out of their hands," said their 23-year old daughter Merari.
The Caamals say they were improperly foreclosed on in 2015, and are now being evicted by real estate investment firm Wedgewood Inc., a multi-billion dollar company that preys on victims of the foreclosure crisis.
Wells Fargo, the holder of the initial mortgage for the house, determined that the Caamal family did not qualify for a permanent loan modification and refused to accept their mortgage payments. Wells Fargo then foreclosed and sold the home to Wedgewood Inc.  The Caamal family asked Wedgewood to allow them to buy back their home.
Wedgwood agreed to sell them back their home if they could show they qualified, but upon showing loan approval Wedgewood asked for an additional $100,000. When the Caamal family returned with a new loan approval for the additional $100,000, Wedgwood still refused to sell them back their home.
Read more from Peoplesworld.org