The U.S. is experiencing a housing and economic crisis like never before. In my opinion, were are neck deep in a Great Depression that has been relabeled a Great Recession for propaganda purposes.
For example, a recent report by Harvard's Joint Center for Housing Studies had shown that the poverty rate has more than doubled since 2000, and the rental market is the tightest it has been in three decades with more than 36% of U.S. households now renting. In the past decade, the number of renters increased by 9 million, the largest 10-year gain on record.
Many Americans are also shelling out a significant amount of their incomes to pay their rents.
The report states that the number of cost-burdened households rose by 3.6 million from 2008 to 2014, to 21.3 million. What is even more troubling is that renters who are spending more than 50% of income for housing, jumped by 2.1 million to a record 11.4 million with the nation's 9.6 million lowest-income renters (earning less than $15,000) paying as much as 72% of their income on rent.
According to the report, "Only one in four income-eligible renters receives assistance of any kind, leaving millions to try to find housing they can afford in the private market. But units affordable to lowest-income households are often already occupied by higher-income households.
Indeed, the National Low Income Housing Coalition estimates that only 57 units were affordable and available for every 100 very low-income renters in 2014. The shortfall for extremely low-income households (earning 30 percent or less of area median) is even more acute, with just 31 housing units affordable and available for every 100 of these renters."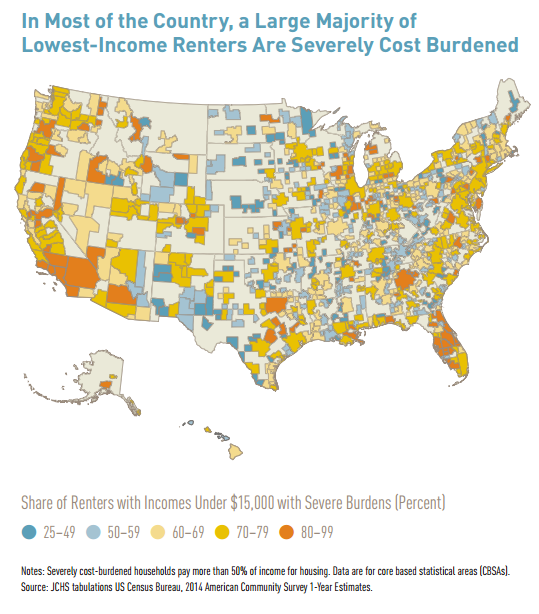 The problem is simple. There needs to be more jobs with wages that are above the poverty rate. We also need more affordable housing to be built. The lack of available housing has caused rental prices to go up and vacancy rates to go down.
More jobs and more housing are the only things that will solve this massive problem, and until we start addressing these issues, it is all just small talk and wishful thinking.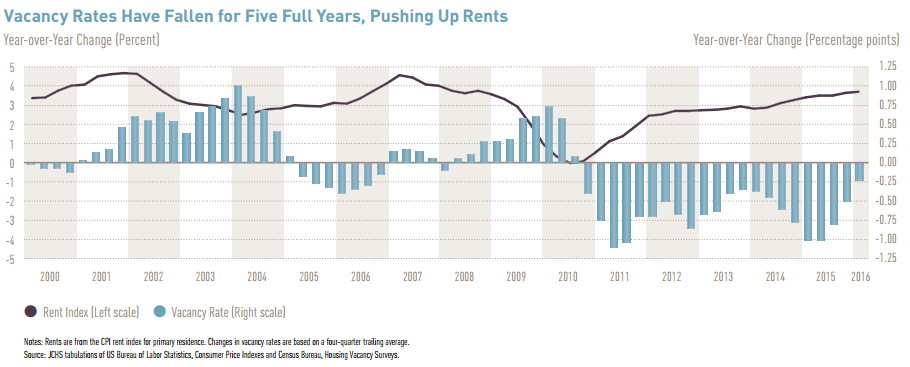 Read the full report at this link.