(Source:Bankrate) – NEW YORK – More than 4-in-10 Americans (41%) admit they're concerned about rising interest rates in 2016, according to a new Bankrate.com (NYSE: RATE) report. Americans are most worried about how rising interest rates might affect their personal finance situation (18%) and what consequences may be for the economy/stock market (16%) in a rising rate environment.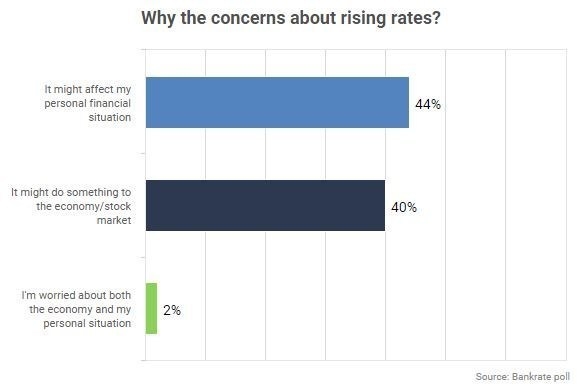 "The impact of rising interest rates will take some time to show a cumulative effect," said Bankrate.com's Chief Financial Analyst, Greg McBride, CFA. "Now is the time for consumers to insulate themselves from rising rates, such as refinancing from an adjustable-rate to fixed-rate mortgage and snagging zero-percent balance transfer credit cards," McBride added.
The likelihood of being concerned about rising interest rates increases at lower levels of income and education. Half of those earning under $30,000 are concerned and 47% had an education level of high school or less. However, concern about how rate hikes might affect one's personal financial situation was consistent across the various income groups.
Among age groups, Millennials (20%) were most likely to voice concern about how it might affect their personal financial situation and least likely (12%) to worry about what it might do to the economy/stock market.
A greater number of Americans (56%) don't see a reason for alarm about an increase in rates. Of those who responded with a lack of concern, very few (7%) cite the desire for additional interest income on savings as the reason they're not concerned. In fact, many Americans (15%) actually felt interest rates have been artificially low.
Americans' financial security saw a slight uptick. This month's Financial Security Index clocked in at 101.5, compared to 101.1 in December 2015.
Feelings of job security have led the way, with just 10% of employed Americans feeling less secure in their jobs now than 12 months ago, including just 5% of Millennials.
More Americans noted higher net worth and improved overall financial situations compared to one year ago than what was seen in December.
Women feel their financial security is unchanged from one year ago – neither better nor worse – while men indicate improvement in financial security versus one year ago.
The survey was conducted by Princeton Survey Research Associates International (PSRAI) and can be seen in its entirely here:
http://www.bankrate.com/finance/consumer-index/rising-interest-rates-are-widespread-worry.aspx
Methodology
PSRAI obtained telephone interviews with a nationally representative sample of 1,003 adults living in the continental United States. Interviews were conducted by landline (500) and cell phone (503, including 340 without a landline phone) in English and Spanish by Princeton Data Source from January 7-10, 2016. Statistical results are weighted to correct known demographic discrepancies. The margin of sampling error for the complete set of weighted data is ± 3.6 percentage points.
SOURCE: BANKRATE