The 2016 tax year is underway, and it's time for homeowners to start thinking about tax deductions that will help them reduce the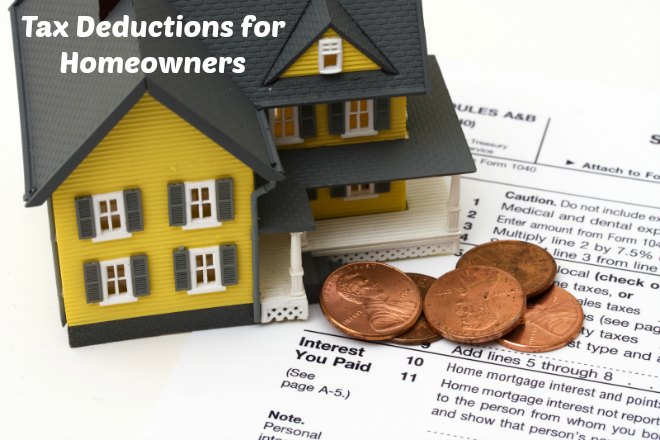 annual costs of homeownership. For potential homebuyers, mortgage tax deductions can mean the difference of remaining a renter or becoming a homeowner.
Whether a home is financed with a lender, or paid-in-full with cash, there are various tax-savings opportunities associated with owning a home. But tax laws change frequently, so it is important that homeowners and future homebuyers get educated on the various tax laws and deductions that may be available to them.
Here is a list of some of these tax-deductible items that will help reduce the costs of owning a home. :
* Mortgage interest
Mortgage interest paid to a lender is tax-deductible for first and second mortgages, and also refinance loans, home equity loans (HELOAN), and home equity lines of credit (HELOC). You're allowed to deduct interest on mortgages up to $1 million unless you're married and file separately, in which the amount is $500,000. The IRS has a $1 million loan size cap, and any loan amount above million dollars are exempt from this tax deduction.
* Property Taxes
Property taxes can often be deducted in the year in which they are paid. If your taxes and insurance are paid via an escrow account with your current lender, they will send an annual statement that you can used to calculate your property tax deductions.
* Mortgage Insurance Premiums
The IRS says that the mortgage insurance may be tax deductible, but it must be in connection with home acquisition debt, and the insurance contract must have been issued after 2006. Premiums for qualified mortgage insurance that are properly allocable to periods after the close of the tax year, such premiums are treated as paid in the period to which they are allocated.
You must allocate the premiums over the shorter of the stated term of the mortgage or 84 months, beginning with the month the insurance was obtained. No deduction is allowed for the unamortized balance if the mortgage is satisfied before its term.
Mortgage insurance provided by the Department of Veterans Affairs is commonly known as a funding fee. If provided by the Rural Housing Service, it is commonly known as a guarantee fee. The funding fee and guarantee fee can either be included in the amount of the loan or paid in full at the time of closing.
These fees can be deducted fully in 2015 if the mortgage insurance contract was issued in 2015. Contact the mortgage insurance issuer to determine the deductible amount if it is not reported in box 4 of Form 1098.
* Private Mortgage Insurance (PMI)
Private mortgage insurance tax deductions are one of the top mistakes home owners make on their taxes. Thanks to the recently signed Protecting Americans from Tax Hikes Act of 2015, private mortgage insurance may be tax deductible for the 2015 and 2016 tax years. To qualify, your loan must be for your primary residence or a second home that's not a rental property, and to have originated in 2007 or later. Also, your adjusted gross income must not be more than $109,000.
* Points and Loan Origination Fees
Points may also be called loan origination fees, maximum loan charges, loan discount, or discount points which are paid to a lender and/or mortgage broker in connection with buying a home or refinancing a mortgage may be tax-deductible. Discount points which allow for a borrower to buy down their mortgage rate, and are associated with the closing fees in obtaining a new mortgage are tax deductible.
According to the IRS, discount points are considered "prepaid mortgage interest." Discount points paid for the purchase of a home may be deducted in full. However, discount points paid for a refinance are not fully tax-deductible and are typically amortized over the life of the loan.
* Prepayment Penalty
Some mortgages have a monetary penalty if you pay off your home early. The IRS says that you can deduct that penalty as home mortgage interest, provided the penalty is not for a specific service performed or cost incurred in connection with your mortgage loan.
* Home Improvements
Some home improvements are tax-deductible, such as improvements made for medical reasons to accommodate a chronically ill or disabled person,  which are typically 100% tax deductible. Repairs and improvements made for aesthetic purposes or to increase the value of your home are not tax-deductible.
* Home Offices
Homeowners who work from their home may be able deduct the expenses of maintaining a home office. Allowable tax deductions for a home office include the square footage used for the office, renovations, and monthly utility costs associated with the office such as internet, electric, and gas. See IRS Pub. 587, Business Use of Your Home, which explains how to figure your deduction for the business use of your home, and includes the business part of your home mortgage interest.
* Home sold
If you sell your home, you can deduct your home mortgage interest (subject to any limits that apply) paid up to, but not including, the date of the sale.
Private mortgage insurance can be deducted from your taxes as if it were mortgage interest. This applies to insurance policies obtained in 2007 or later.
Cancelled Debt – The Mortgage Forgiveness Debt Relief Act of 2007-2016
The Mortgage Debt Relief Act of 2007 was extended for an additional two years of protection covering tax years 2015 and 2016. This tax relief applies to qualified borrowers when a lender cancels, forgives and or reduces the mortgage debt on their primary residence through various loss mitigation methods such as a loan modification, and debt forgiven in connection with a foreclosure or a short sale.
Normally when this happens, you may have to report the cancelled or forgiven amount as income to the IRS for tax purposes because your legal obligation to pay back your lender was forgiven. However under this law, many struggling homeowners will now be able to exclude income on their taxes from the discharge or reduction of their mortgage debt.
Certain payments on the balance of a mortgage via a loan modification under the Home Affordable Modification Program (HAMP) may not be taxable. Other exclusions from paying taxes on this forgiven debt are debt canceled in a Title 11 bankruptcy or during insolvency, canceled qualified farm debt, and canceled qualified real property business debt.
The IRS gives tax payers the simple following example scenario; "You borrow $10,000 and default on the loan after paying back $2,000. If the lender is unable to collect the remaining debt from you, there is a cancellation of debt of $8,000, which generally is taxable income to you."
If the forgiven mortgage debt was reduced or cancelled at least $600, it is subject to taxation under the law, and you most likely will receive from your lender in the mail what is called a form 1099-C, Cancellation of Debt. This form shows the amount of canceled debt that you will have to file with your federal tax return using the 1099-C form which will be considered as part of your gross income.
New reporting requirements from the IRS:
The Surface Transportation and Veterans Health Care Choice Improvement Act of 2015 contains new reporting requirements for recipients of mortgage interest. For forms 1098 issued to payers after December 31, 2016, you must report the address or description of property securing the mortgage, the outstanding mortgage principal as of January 1, 2016, and the mortgage origination date.
IRS forms and publications:
Use form 1098, Mortgage Interest Statement to report mortgage interest, including points, of $600 or more paid to a lender for a mortgage.
To see a detailed list of the deductions allowed by the IRS, please see Publication 936 at this link.